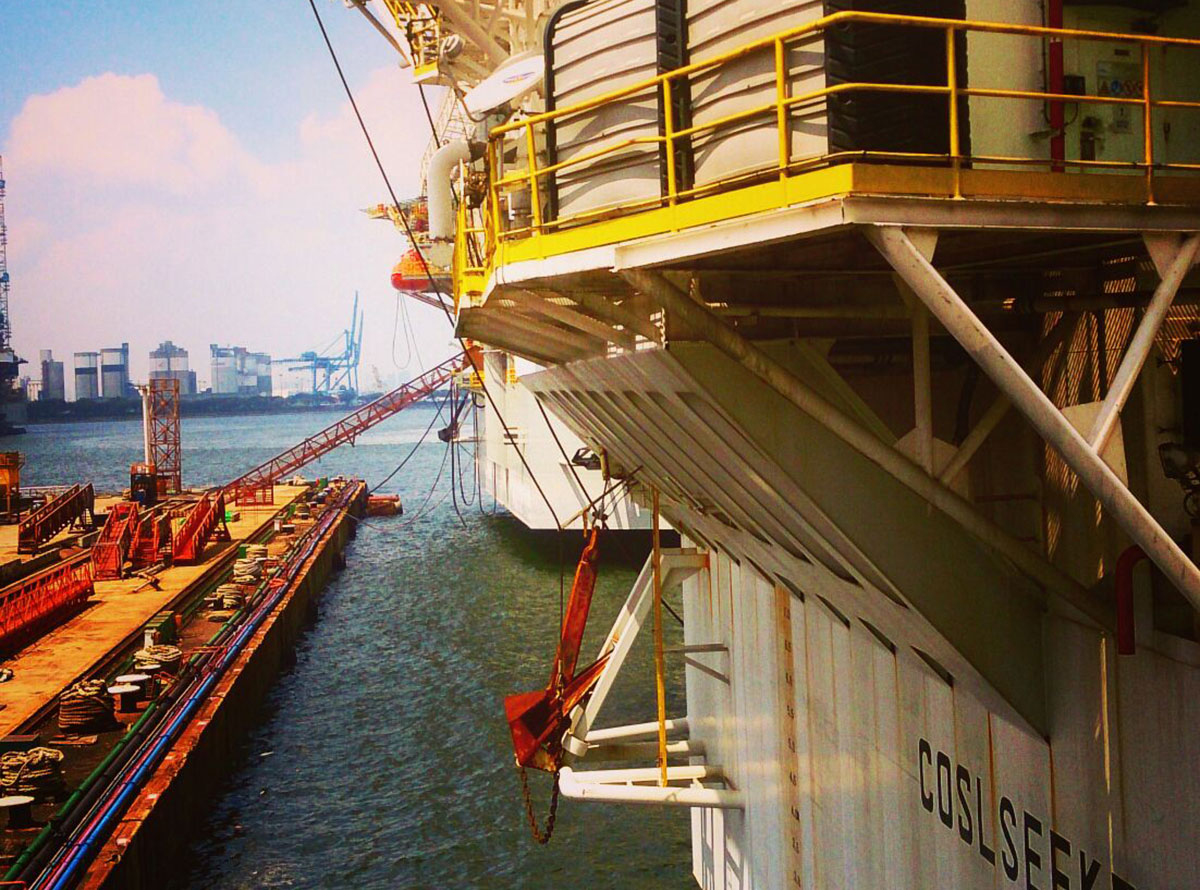 5th of July, 2015 - Key management team from PT. Ponco Oilfield Supplies & Services visit COSL SEEKER at Jurong Shipyard. In the spirit of the Ramadan period, newly appointed General Manager, Daren Ganesh and Chief Operational Officer, Simon Pho take time off and visit COSL SEEKER O.I.M David Allison, and his crew.
Their Sunday afternoon visit started off with a safety briefing conducted by Dave and he emphasized the importance of implementing a system to make sure that the arriving crew should be screened and cleared as fit to work onboard the rig. Simon Pho, the COO of Ponco assured COSL that all crew personnel are required to attend an annual medical check up at least once a year. This medical screening is mandatory for all employees and valued by the staff of Ponco as a company entitlement.
Newly appointed GM, Daren Ganesh affirmed that he is looking into the matter and that he will not hesitate to issue warning letters to crew members who regularly report sick while onboard the operational oil rig. These letters will warn personnel that falling sick frequently will implicate their performance and pull down their overall value, that they must strive to demonstrate professionalism by maintaining their health and fitness. However, a crew co-ordinator from Ponco added on "In a case where someone is genuinely sick, we must not deter them from reporting it. Safety is top priority and operations can become hazardous if someone on the team is feeling ill and faint."
After the safety briefing, Roger Pho, Marketing strategist from Ponco steps up to speak to the crew. He spoke about the critical aspects of integration, focusing attention on how to communicate clearly as a team and learning positively from one another. He reminded them of STEP (Safety, Teamwork, Education, Professionalism), and that they should always strive to implement these Core Values into their work styles and ethics.
Concluding the meeting, COSL engineers and staff praised Ponco for being proactive and diligent by establishing stronger ties that may secure them future positions and projects. Ultimately, Ponco likes to be reliable and transparent in our partnerships. In building a long term relationship, we must have integrity in honouring our promises and be accountable for our agreements.
As COSL SEEKER is preparing to embark off to Surabaya in October 2015, Ponco management closed their visit by boosting the crew's morale, sending their Selamat Hari Raya well wishes to all the the crew onboard the oil rig and that they should strive to upgrade in their career pathways and aim for zero accident incidents onboard as they prepare to start offshore drilling operations.